We were here: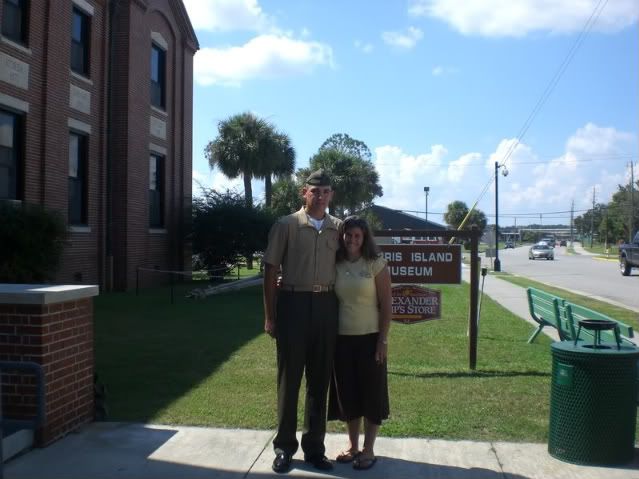 We had finally finished the first step in our Marine Corps career- boot camp. I remember those three months. It was such a shock to seeing you and talking to you everyday to almost nothing. As I stood waiting to see you on family day I remember shaking uncontrollably. I was so excited to see you and I burst into tears the second I got to you. After that I remember thinking "okay, one part is down and only 3 years and 9 months to go." I was so determined to make it through the next 4 years one step at a time. Little did I know it would be taken from me in the home stretch.
Today I'm so angry. Angry that we were almost done with this.. 10 months and we were Marine Corps free. Actually, I just wanted to get through the last 5 of the deployment and then you would have been done leaving. But of course not. Why not just put the cherry on top of my already shitty life. I hate feeling like i'm going to live the rest of my life this way. Wondering what "could have been" and settling for something mediocre.
Not to mention the fact that I want to duke it out with God. I have yet to understand why he keeps doing these things to me. My life has been everything BUT normal. It's been one thing after another. He took the best thing away from me and that was you.
All along my biggest fear in life was being alone. What do you know? Just when I think everything is going to work out perfectly for us, this happens. I'm going to be one of those 50 year old school teachers who is single, taking care of her parents, and live with a bunch of cats (I hate cats by the way). Pisses. Me. Off.
Did I mention how much I love your friends? They're amazing. You would happy to know I'm well taken care of and I have plenty of people to ask if I ever need anything at all. I'm so glad you had such amazing friends and I'm glad that I will get to inherit them as my own. I have been blown away with some of the messages I have gotten lately and it really is amazing. As much as I hate this situation, it is people like your friends from the MC that make this a little more bearable. This is a type of family that you would only know if you're involved in this situation. These people have a different view on life and it's a kind of brotherhood that you don't find very often. I'm thankful that I get to be a part of it and these are the type of friendships you'll keep close to your heart forever.
I miss you. Dreams.. please?